With the holiday season quickly approaching, online retailers are gearing up for massive online traffic to their sites. However, while this may sound pleasing to the ears, it isn't something you should celebrate just yet. Here's why.
Cart abandonment bottlenecks are common during the holiday season. Shoppers fill up their carts with different items and then disappear without buying anything. Though it's a year-round problem for online retailers, it's remarkably high during the holiday season.
According to Barilliance, the cart abandonment rates for Black Friday and Cyber Monday in 2020 were 77.79% and 80.69%, respectively. Furthermore, Barclaycard has identified December as the month with the highest online cart abandonment rate, followed by November and January. That's because customers spend a significant amount of time looking for Christmas gift ideas, as well as Black Friday and January sales.
In addition, people do a lot of window shopping during holiday seasons without the intention to buy. The ones who want to buy usually hop from store to store, searching for the best available deals and seamless shopping experiences.
As an e-commerce store owner, you'd agree that there's nothing as disappointing as losing hundreds or perhaps thousands of potential sales to aborted transactions. Also, knowing that over 70% of your visitors abandon their carts and never return is a bit scary.
However, even though it's something you really can't control, you can still make the most of the traffic surge with the right strategies in place.
How to Reduce Cart Abandonment This Holiday Season
To help online retailers generate the most purchases this holiday season, we've made a list of our top four techniques for lowering their cart abandonment rates. Although these can be applied to many email marketing platforms, Klaviyo is our preferred one for any ecommerce out there that's looking to grow its revenue in a short period of time. It offers deep integrations with ecommerce platforms, rich data and analytics, and next level personalization.
Ready? Let's get started.
1. Use an Exit-intent Popup
An exit-intent popup, also known as 'on-exit overlay,' is a type of website overlay that allows you to maximize your conversions. According to OptinMonster, exit-intent technology is a behavioural technology that tracks and monitors website visitors' activities and detects when they're about to leave your site without making a purchase or leaving their information. It's intended to reduce cart abandonment and increase lead generation.
Exit-intent popups are customizable, allowing you to leave tailor-made messages for users based on the page they're viewing. Sometimes, all you need to get your shoppers to complete a purchase is a special offer, discount code, coupon, or a simple reminder to complete their purchase.
Exit-intent popups with well-crafted messages can save up to 15% of lost visitors. That's because they're customer-friendly and less intrusive. They do not interrupt your visitors while browsing or scanning your site; instead, they appear when those visitors begin to leave your site or navigate to another window.
Additionally, you should consider adding these popups to your cart and checkout pages to make the process more effective.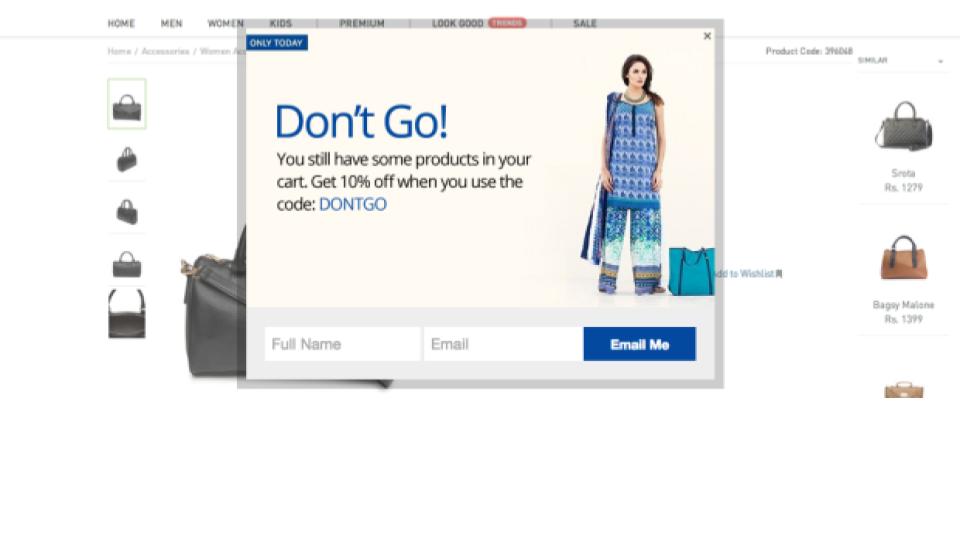 Image Credit: Omniconvert
The above image is an example of a rich media popup. It's the kind of image that appears on the product page the moment a prospective buyer makes a move to leave. It improves user experience and produces a higher interaction rate.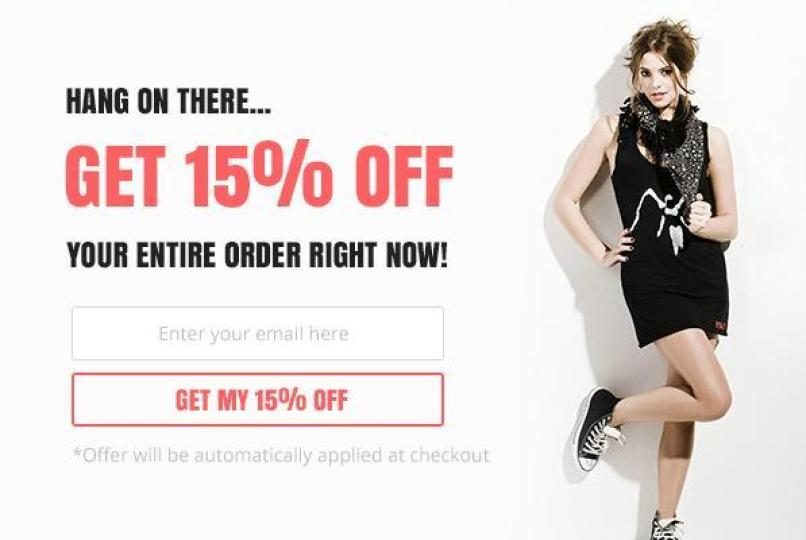 Image Credit: OptinMonster
A simple reminder to have customers complete their order, coupled with a personalized deal for shoppers, can help secure the sale.
Also, findings show that rich media popups have about 90% exit-intent accuracy. So it's pretty essential to use eye-catching images and clear call-to-actions on your popups to increase your chances of more conversion.


2. Set-Up Cart Abandonment Flow
A cart abandonment flow is a series of follow-up email messages automatically sent to potential customers who have abandoned their carts. They help you re-engage your warm leads who are just a few clicks from completing their orders.
Many experts agree that sending a personalized abandoned cart email is a great way to grab some low-hanging fruits since you can get upwards of 10% of them back through abandoned cart emails. Therefore, you'd be leaving money on the table by not using a checkout flow in your overall sales conversion strategy.
To conceptualize this idea, here are a few relevant stats from Zembula.
Approximately half of all abandoned cart emails get opened.

An estimated 20% of opened emails receive click-throughs.

Just over half of those who respond to the abandoned cart email go on to complete their purchase.
These are excellent proof of the effectiveness of using a cart abandonment flow.
There's no gainsaying that every eCommerce retailer has experienced financial loss from cart abandonment, thus improving your e-commerce checkout flow is essential.
For a cart abandonment flow to be effective, it should address all questions and concerns a buyer might have. Here are some of the elements your cart flow should have if you want to drive more revenue this holiday season.
1. Frequently Asked Questions (FAQs)
The lack of clarity regarding elements of the purchase process like shipping costs and return policies is why some customers fail to complete their checkouts.
Such customers would prefer to abandon their carts if something is unclear to them than contact customer support. Therefore, your cart abandonment flow presents an excellent opportunity to address common questions your customers might have, thus helping you win more buyers.
Having an existing FAQ page makes it easy to incorporate the common questions in your email follow-ups. If you don't have one, you can start by compiling a list of the most common complaints you've received from existing clients. Additionally, you could also ask your customers to state their biggest challenges shopping on your website.
2. Add social proof
Social proof, according to Buffer, is a psychological phenomenon where people assume the actions of others in an attempt to reflect correct behaviour for a given situation. Thus, it makes sense to leverage the power of positive influence that social proof adds to your brand as you grow your customer base. In other words, a customer is more likely to buy from you if they believe that others are buying from you.
Including social proof in abandoned cart messages will help you build trust and influence. It also reminds your customers that your products are popular. 
There are various ways to build social proof, including testimonials, reviews, and ratings. Video testimonials and social media clips are also powerful ways to strengthen your social proof. To make this a walk in the park, you should form the habit of collecting reviews and testimonials from your customers. Also, placing reviews and testimonials throughout your site increases your chances of getting more sales conversion.
3. Add recommended product alternatives
As a retailer, there are times you would run out of stock for specific items. Unfortunately, it happens pretty often, and even the most proactive sellers experience it. However, instead of leaving your buyers to shop with your competitors and lose revenue as a result or abandon the purchase altogether, recommending product alternatives would be the intelligent thing to do.
Suggesting product alternatives eases the stress of searching through multiple pages for products that don't exist. Aside from helping your customers save time, reaching out to them via email (cart abandonment flow) creates the impression that you have their best interest at heart.
For example, if you're using Klaviyo's email builder you can simply drag a product block to the template and choose the products you'd like to show. These will be directly fetched from your catalog feed so you'll be saving time instead of building and linking each product individually.
Product alternatives don't have to be about similar products or close substitutes alone. It could also be supplementary products that serve an entirely different purpose but make the desired product complete. To get this right, make sure the products you're suggesting are available. If not, clients might get upset and walk away.
What's the Perfect Timing for Abandoned Cart Emails?
There are no hard and fast rules regarding the timing of abandoned cart emails. Choosing the right time to activate your cart flow will depend on the nature of your product and your target market. Also, running an A/B split test to determine what works best for you and then tweaking your campaigns based on available analytics will help you get the perfect timing.
However, sending the first email within the first three hours of an open cart is generally recommended. Also, you can set a 24 to 48 hours interval between the first and second email. The third email can come after a week, and it's usually the last one in the sequence. However, if you find that increasing the email follow-up count works for you, it makes sense to add a few more. But the rule of thumb is not to overdo it.
3.
Run Retargeting Ads to Bring Abandoned Shoppers Back
We've all seen them before – ads that follow you everywhere, including your smartphone apps, web pages, and social media pages. That's the power of retargeting. Ad retargeting is another effective cart recovery strategy as it allows you to show up on your prospects' timelines subtly. 
Retargeting works by utilizing cookies, a small piece of data stored by the web browser that remembers users who clicked your ads or visited your webpage. You can then use this cookie data to serve ads to the users again. 
Retargeting allows you to keep your brand in front of your potential customers after they have left your website. Showing relevant, targeted ads to users interested in your brand increases brand awareness and often total conversions.
Retargeting allows you to stay on top of your customer's minds while they're browsing the web. And they don't even need to enter their details.
Statistics show that using retargeted ads can send 26 percent of shoppers back to your site. Also, personalizing retargeted ads can lead to ROIs of over 1,300 percent.
Retargeting is also a lot less expensive than other forms of advertising, and it still produces impressive results.
Retargeting Best Practices
It's crucial to understand what makes retargeting campaigns successful before you start creating your own. Regardless of your audience or the retargeting channel you choose, it's always good to stick to the best practices for optimum results.
Here are two incredible ways to build a successful retargeting campaign:
1. Segment your audience
Segmentation helps marketers to be more prudent with time, money, and other resources. In addition, it allows e-commerce retailers to gain a better understanding of customers' wants and needs, allowing them to tailor campaigns to the customer segments most likely to buy products.
You can create segments based on purchase behaviour, how long a user has been away from your site, and the types of pages a customer visits. These factors would help you create personalized retargeted ads.
2. Use cross-selling and upselling
Cross-selling and upselling are two powerful e-commerce strategies that allow you to improve your average order value per customer. Cross-selling allows retailers to offer additional products that complement those the user has already purchased or is about to purchase. On the other hand, upselling lets you suggest more expensive or upgraded products to a user.
According to McKinsey, cross-selling can boost sales by 20% and profits by 30%. Also, upselling increases sales revenue by 10-30% on average, and they're 68% more affordable than acquiring a new customer. That's why including them in your retargeting strategy would be a game-changer.
You can serve retargeted upselling and cross-selling ads by installing a burn code on your checkout pages, product pages, and carts. This notifies your visitors about additional products or more expensive/upgraded products, thus increasing your earning potential.
4.
Improve the Cart Experience
Poor shopping experience is one of the top reasons people abandon their carts. It manifests in many different ways, including complicated checkout processes, lack of customer support, slow website, and unclear communication.
Therefore, a simple way to turn this situation around is by improving your customers' cart experience. Not only will this enhance cart recovery, but it will also create a better brand perception and increase customer satisfaction and loyalty.
We all know that cart abandonment is inevitable. However, as a retailer looking to increase sales volumes this holiday season, the last thing you want to do is drive away your customers through avoidable errors.
A plugin like Caddy WooCommerce Side Cart can help elevate your store's shopping experience by reducing your cart abandonment, boosting your conversions, and growing your sales in the process.
Touted as WooCommerce Store's new assistant, Caddy lets you turn your shoppers into loyal fans by providing you with unique features that create outstanding shopping experiences. Here's a rundown of all the great features that will take your sales to the next level during the holiday season and beyond.
Seven different cart icons:

This adds flexibility to your store by allowing you to choose from the available custom icons.

Customizable colours:

You can modify 20+ different colour options to match your brand's look and feel.

Cart notices:

Caddy notifies you whenever someone adds products to carts or their saved list.

In-cart coupon offers:

Buyers don't have to leave their carts before getting the special coupons because Caddy lets them display coupons within the cart. 

Save for later buttons:

By adding save-for-later buttons to your shop and single product pages, it's easy for shoppers to come back and shop more.

Advanced customizations:

You can customize the location of the floating cart icon and exclude products from upsells, thus giving room for more control and flexibility.

Free shipping meter:

It's a cool feature that encourages larger order sizes by showing the amount a customer needs to qualify for free shipping.

Up-sell recommendations:

Helps you increase order sizes by providing targeted product recommendations right in the cart.

Built-in wishlist:

This feature allows shoppers to save products to their wishlist and view them directly within Caddy.

Sticky side cart:

Shoppers have access to their cart on every page they visit, increasing their chances to checkout.

Optimized for speed:

Caddy accelerates the shopping process from the moment shoppers land on your page to when they checkout.

Mobile optimized:

Caddy isn't only great for desktop devices, but it is optimized for mobile devices and tablets.

Translation ready:

Caddy is available in English and Spanish, with more languages to be added soon.
To cap it all, Caddy is backed by WooCommerce growth experts, safe to use, and looks good on all themes, making it one of the best Woocommerce Cart plugins.
Wrapping Up
With the holiday season nearing, it's critical to keep your cart abandonment rate as low as possible. Interestingly, you just learnt our best-kept secrets when it comes to cart recovery.
Seeing your shoppers leave their carts infinitely open doesn't surprise many retailers these days. However, what is most painful is knowing that you could do something to save the situation, but you aren't taking the necessary steps. So don't be a slacker this holiday. We can assure you that you'll see improvements in your sales experience and overall revenue by using the tips we've shared here.