Hello September! This week we're featuring content from HubSpot, Internet Retailing, and WooThemes. Be sure to check out each of these posts, as well as the rest of the content on each of these wonderful sites for some Ecommerce marketing and business growth inspiration!
Also, be sure to subscribe to our blog so we can supply you're inbox with more awesome Ecommerce resources. Thanks for reading!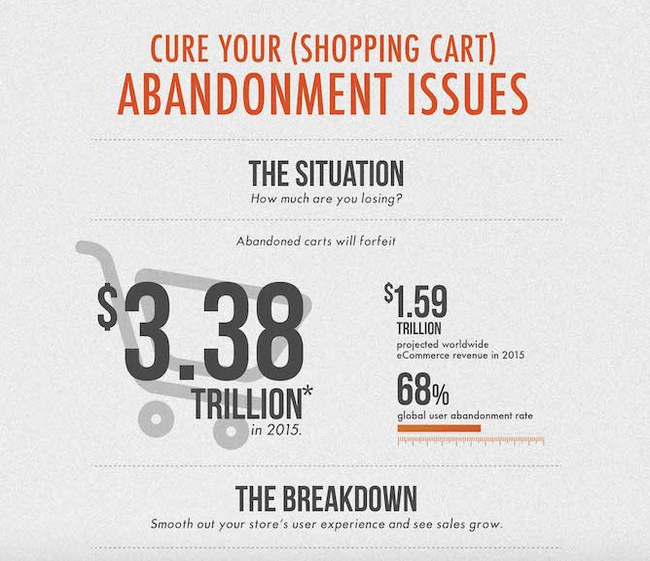 By Ria Sabnis – This post on HubSpot's Marketing blog comes from Ria Sabnis of Ripen Ecommerce. Ria and her team at Rippen have put together an awesome infographic that explains common shopping cart abandonment issues and how Ecommerce retailers can work to solve them. Some key takeaways:
Get rid of distractions during the checkout process.
Emphasize your customer service options.
Make navigation within the checkout process dead simple.
Allow checkout without registration.
Highlight your return policy.
Offer free (or low cost) shipping whenever possible.
By Nicole Kohler – As an online retailer, it's never too early to start thinking about your Ecommerce marketing strategy for the holidays. You might have some great marketing ideas or promotional campaigns all queued up, but what about your content? Nicole Kohler walks us through some best practices for adjusting your content to improve customer experience during the holiday season.
Here are a few highlights from Nicole's article:
Buyer behavior can change dramatically during the holidays. People may be doing more research, comparing prices from more retailers, and digging a little deeper in order to find that perfect gift. Make sure your content addresses heightened concerns over shipping costs, delivery times, return policies, etc.
People are likely searching for the right gift for the right person. Adjust your content and product descriptions to position them as "The perfect gift for Dad," or "Your wife will love our latest X."
Planning and timing are key. As Nicole points out, "It's crucial to consider when the majority of customers will be buying your products, and publish your content accordingly." Think about your product and the normal sales process. Are you products likely to be viewed as last-minute gift options or something that needs to be researched, reviewed, and vetted before buying?
By Chloe Rigby – Did you notice a drop in online sales this past month? If so, you aren't alone. As Chloe Rigby reports on Internet Retailing, UK retailers both online and offline saw sales slump or stall in August. The article outlines a several factors that likely played a part in this decline, including the fact that many people go on vacation – and thus aren't likely to be making online purchaes – during August. This trend is also true for people in the U.S. as well.
Did your Ecommerce store see a sales slump or slowed growth during August? Share with us in the comments section below!